Consumer-Driven Product Innovation from Emmi Roth Refreshes the Seasonal Specialty Cheese Case.
FITCHBURG, Wis. [Jan 5, 2023] – Emmi Roth, a leading provider of specialty cheese, has launched new cheeses under several of its popular brands, each developed with entertaining top of mind. With flavored specialty cheeses up 29 percent since 2019[1], new Roth® Tomato Basil Havarti, Roth® French Onion Havarti, and Emmi Beer Fondue will add even more options for consumers looking for unique cheeses.
The Roth brand has seen a 119 percent increase in Havarti sales since 2019, signaling a shift in the popularity of this mild, consumer-friendly cheese. Flavored Havarti's are resonating even more with consumers and grew three times faster than plain Havarti in 2021, according to IRI data.[2] And consumers showed their love by voting the new Havarti flavors into the Roth lineup through a campaign on the brand's Instagram channel.
"Consumers are at the center of our decision-making when it comes to innovation," said Brittany Fladeboe, branded product manager at Roth® Cheese. "Narrowing down potential flavors for our new Havarti required understanding what flavors our consumers are interested in, researching current flavor trends in the market, and working closely with our research and development team to make sure the products we created brought out the best characteristics of the cheese itself."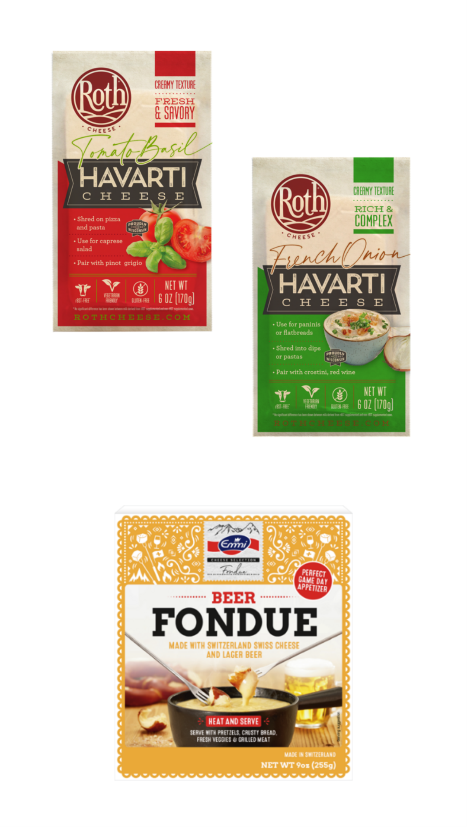 Roth® Tomato Basil Havarti pairs zesty basil with air-dried tomatoes, delivering a fresh bite with a crowd-pleasing flavor combination perfect for pasta or pizza night.
Offering a bolder, more comforting flavor, Roth® French Onion Havarti riffs on the classic condiment, French Onion dip, with a cool and herbaceous blend of chives, toasted onion, and garlic.
Arriving from Switzerland for the American consumer, Emmi Beer Fondue is a unique entertaining option for hosts looking to impress guests without the fuss. The subtle addition of lager beer to Emmi's heat-and-serve fondue-in-a-box makes for an easy game-day dip.
"Sales of Emmi Fondue are up more than 30 percent since 2019, so we know consumers are looking for fun in-home eating experiences," said Fladeboe. "This new flavor is ideal for in-store game day displays and as a unique seasonal option for consumers hosting at-home parties this fall and winter."
All of Emmi Roth's new products are now available for ordering and shipment to stores this winter. Visit emmiroth.com for more information.
Emmi Roth is an industry leader in providing the nation's top specialty cheeses. From making some of the most awarded cheeses in the U.S. to importing Switzerland's most beloved cheeses, we work every day to create the world's best. Emmi Roth has operations at five locations across Wisconsin and represents the top cheese brands in the U.S., including Athenos, Roth® Cheese, Emmi USA, and more. Visit emmiroth.com to learn more, or find Emmi Roth on Facebook and LinkedIn.
###
Media Contact: Abby Despins, abby.despins@emmiroth.com
---
[1] Source: IRI Unify, Total US-Multi Outlet, Building Calendar Year 2022 Ending 7/10/2022, Exact Weight Flavored Deli Cheese (Dollar Sales)
[2] Source: IRI Unify, Total US-Multi Outlet, Calendar Year 2021 Ending 12/26/2021, Exact Weight Deli Cheese (Volume, Pounds)