New Emmi Beer Fondue is the 15-minute appetizer party hosts need to elevate their dip game.
FITCHBURG, Wis.  – Emmi USA, a leading provider of specialty cheese from Switzerland, has added a new flavor to its popular line of heat-and-serve Fondues that is sure to help make the big game more memorable.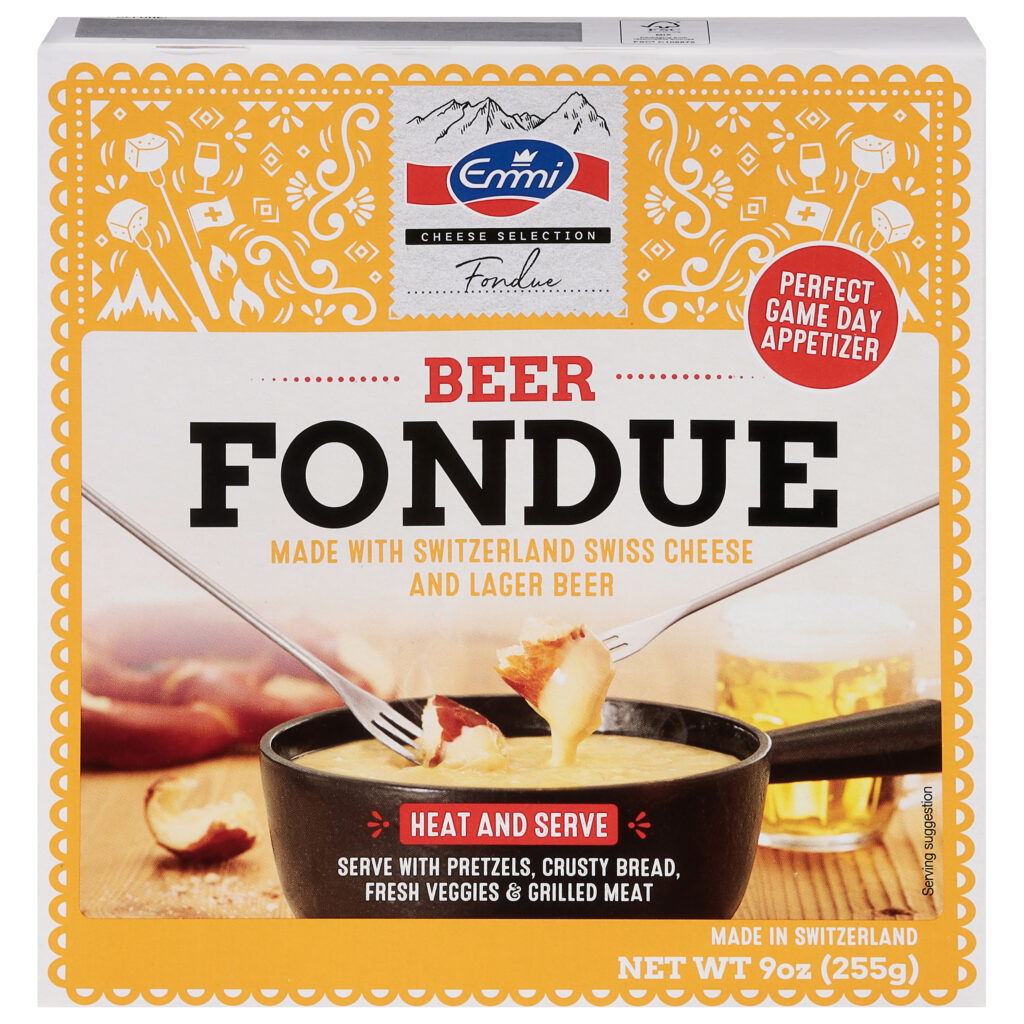 Made in Switzerland, Emmi is the number one fondue brand in the U.S. Emmi Beer Fondue is a unique entertaining option for hosts looking to wow guests with a one-pot dip that melts to perfection in 15 minutes. Crafted with real Switzerland Swiss cheese, beer, whisky, and spices, everything you need is right in the box. Just serve with dippers and you'll be spending more time watching the game than prepping food in the kitchen!
"Fondue is typically served with crusty bread, but gameday favorites are great dippers for this traditional Swiss dip," said Brittany Fladeboe, branded product manager at Emmi USA. "From pretzels and tortilla chips to chicken wings and sausages, Emmi's Beer Fondue is a quick, crowd-pleasing option for a game day spread."
If hosts prefer a more traditional route, the package includes an array of dipping option ideas, including grilled beef, chicken, vegetables and more.
Consumers can visit "Where to Buy" to find Emmi Beer Fondue and other Emmi cheese products at their favorite local grocer. 
The Emmi USA brand is part of Emmi Roth, a subsidiary of Emmi Group, the largest Swiss milk processor and one of the most innovative premium dairies in Europe. Emmi Group passionately supports farmers, cheesemakers, and family traditions. They believe in sustainable agriculture and respect for the people, land, and animals that make their business possible. While holding fast to the traditions that make them an industry leader, they continually strive to innovate new cheeses from Switzerland that expand your palate and inspire your inner chef.
For more information about Emmi USA, visit emmiusa.com, or find Emmi USA on Instagram and Facebook.
###
Media Contact: Kaya Freiman, Kaya.freiman@emmiroth.com