Emmi USA's pre-sliced product offers an easy way to enjoy a classic Swiss cheese
Wisconsin – Emmi USA has introduced new Tête de Moine Cheese Rosettes, elegantly presented in a 3.5-ounce flower-shaped container and now available nationwide. Ready to add to cheeseboards in a matter of seconds, these eye-catching Tête de Moine Cheese Rosettes offer a quick way to enjoy a touch of tradition without the need for a girolle – a cheese curler specifically used to shave Tête de Moine into beautiful spirals of cheese.
Tête de Moine is a traditional, small-batch specialty cheese imported from Switzerland that means "head of the monk". Made from fresh part-skim cow's milk, Emmi Tête de Moine AOP is aged on small spruce planks. The tangy, semi-hard cheese is then scraped into fine rosettes using a girolle. This technique increases the surface area and exposure to air, changing the structure of the cheese and allowing the aromatic, gently nutty flavor to bloom and develop to its fullest. The new pre-sliced rosettes eliminate the need for any extra tools, providing consumers with a delicate, ready-to-serve product.
"Plenty of people want to enjoy the luxuries of tasting and serving cheese in its most flavorful form, but not everyone can easily make that dream a reality," said Jodie Wische, Senior VP of Specialty Sales at Emmi USA. "With these new rosettes, consumers can make their cheese plates look like it was done by a professional in a matter of seconds."
The bold taste of this cheese pairs well with vibrant foods and drinks including smoked and cured meats, along with full-bodied wines. It also balances nicely with sweet and tart palate cleansers such as apples or pears.
Tête de Moine AOP is produced in line with the strict guidance of the AOP product specifications, which require cheeses to be made and matured in the same region from which the milk is sourced. Twelve kinds of cheese from Switzerland currently bear the AOP quality seal. To learn more about the history of Tête de Moine AOP and how it's made, visit www.EmmiUSA.com/cheese/tete-de-moine-aop.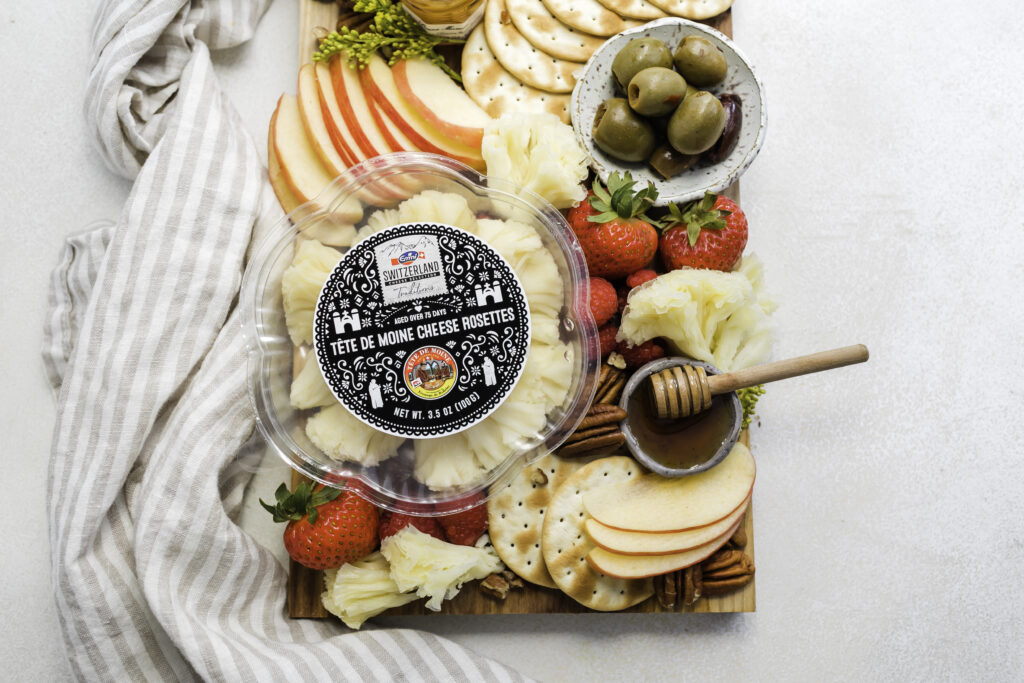 Emmi products can be found at select grocery stores and specialty cheese shops across the country. To find cheeses near them, consumers can visit their product locator.
Media Contact:
Abby Despins, 608-293-1003; abby.despins@emmiroth.com
About Emmi USA
The Emmi USA brand is part of Emmi Roth, a subsidiary of Emmi Group, the largest Swiss milk processor and one of the most innovative premium dairies in Europe. Emmi Group passionately supports farmers, cheesemakers, and family traditions. They believe in sustainable agriculture and respect for the people, land, and animals that make their business possible. While holding fast to the traditions that make them an industry leader, they continually strive to innovate new cheeses from Switzerland that expand your palate and inspire your inner chef.
For more information about Emmi USA, visit emmiusa.com, or find Emmi USA on Instagram and Facebook.