The new crowd-sourcing initiative asks consumers to choose one of four cheese flavors
Wisconsin – Roth® Cheese is taking cheese making out of the creamery and on to the streets with a new crowd-sourcing campaign to choose their next cheese. The award-winning specialty cheesemaker from Wisconsin will produce the winning cheese, which will be available on Amazon Fresh in February 2021.
Consumers can choose from Roth® Chimichurri Gouda, Roth® Hot Honey Gouda, Roth® Spinach Artichoke Gouda, or Roth® Buffalo Ranch Gouda. Just one will be produced in Roth's creamery in Monroe, Wisconsin starting at the end of November.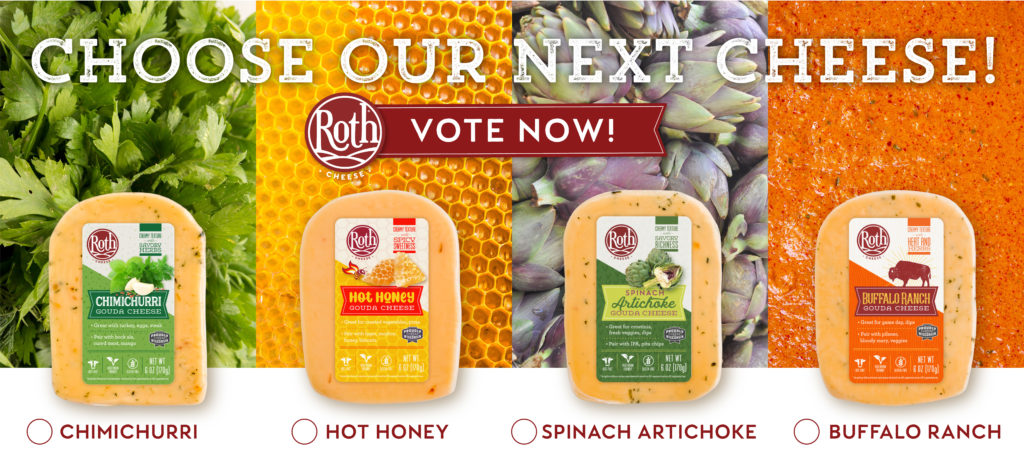 "Improving consumers' lives is the number one goal of our product innovation," says Samantha Streater, Business Development and Innovation Manager at Roth Cheese. "When we develop products, we obsess over figuring out what the consumer will like, even when we're developing a new flavored cheese. Social media and online platforms help us get consumer insights faster than ever before, and we believe using these tools in product development is the future of innovation."
Gouda cheese has also grown in popularity with consumers over the past several years.
"We chose to use Gouda as a base cheese because it has grown dramatically over the years in popularity, and its creamy, mild base blends so well with a variety of flavors," said Streater.
The four finalists were selected from eight possible new Gouda flavors tested by a panel of cheese experts, including cheesemakers and certified cheese professionals, from Amazon Fresh, Roth Cheese and Gourmet Foods International.
Roth cheesemaker Madeline Kuhn spent several months planning and trialing potential new flavors.
"Each of the new Gouda flavors is unique with subtle hints of some of the most popular flavors that consumers love right now," says Kuhn. "Our main goal is to provide a delicious new cheese that is not only popular but also has the perfect blend of flavors."
The new Roth Gouda will be available on Amazon Fresh in early 2021. For more information visit rothcheese.com.
Media Contact:
Abby Despins, 608-293-1003
abby.despins@emmiroth.com
About Roth® Cheese
Roth® Cheese is a part of Emmi Roth, one of the nation's largest producers of specialty cheese. Cheese experts at Roth have been importing and crafting specialty cheese in Wisconsin for more than 150 years. Roth is known for producing award-winning cheeses like Grand Cru® and Buttermilk Blue®, everyday favorites like Havarti and Gouda, and innovative new snack and grab-and-go cheeses. For more information about Roth Cheese, visit rothcheese.com, or find @rothcheese on Instagram and Facebook.