The all-in-one kit includes everything you need to make a cheeseboard.
Wisconsin – Holiday cheeseboard making just got easier with the seasonal release of the Easy Entertaining Cheeseboard from Roth® Cheese. The Roth® Easy Entertaining Cheeseboard gives cheese lovers everything they need to make an Instagram-worthy cheeseboard at home – a bamboo cheese board, cheese markers, pairing ideas, and a trio of Roth's most popular varieties of cheese: Grand Cru® Reserve, Jalapeño Havarti, and Gouda.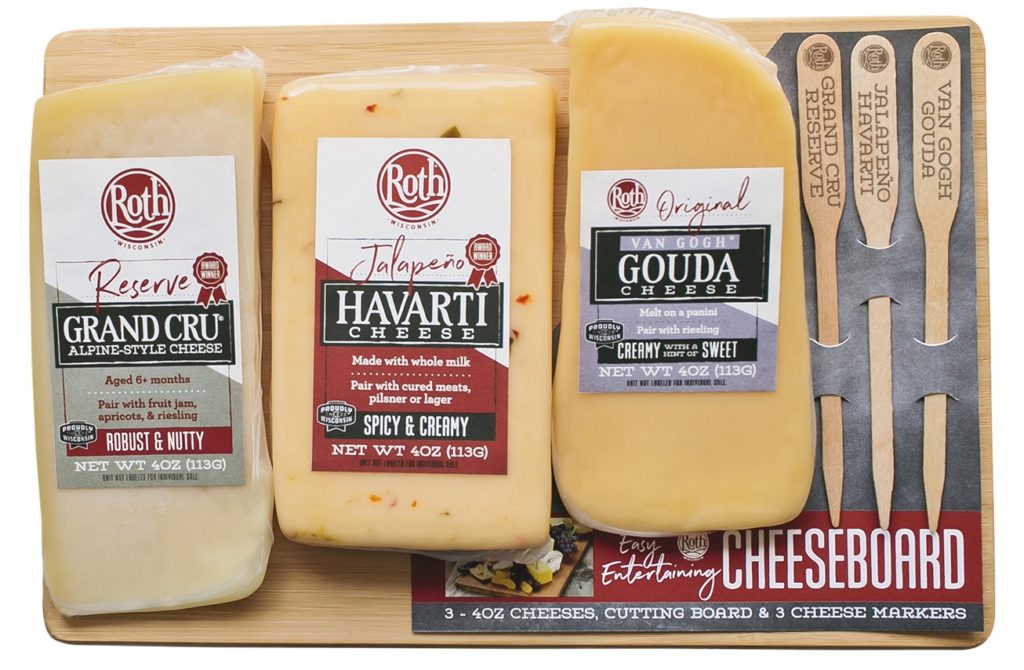 "We know from consumer research that shopping for cheese and building a cheeseboard are both overwhelming," said Heather Engwall, Vice President of Marketing for Emmi Roth. "So, we developed this new cheeseboard kit to make it easy for anyone to enjoy specialty cheese and entertain with ease."
Research by Roth found that consumers look to places like Instagram for cheeseboard inspiration throughout the year. Popular Instagram tags like #charcuterie has 1.3 million posts, #cheeseboards has 1 million posts, and #cheese has 24.5 million posts. Cheeseboards are some of Roth's most engaging posts on Instagram with about a 6.2 percent engagement rate per post.
The Roth Easy Entertaining Cheeseboard retails for approximately $14.99 and can be found nationwide at various retailers, including Albertson's Southwest, Safeway, HEB, select Whole Foods, and more.
For more information, visit rothcheese.com.
Photo assets available in the Image Gallery
Media Contacts:
Abby Despins, 608-293-1003, abby.despins@emmiroth.com
Bryanna St. Pierre, 608-350-9965, bryanna.stpierre@emmiroth.com

About Roth®
Roth® Cheese is a part of Emmi Roth, one of the nation's largest producers of specialty cheese. Cheese experts at Roth have been importing and crafting specialty cheese in Southern Wisconsin for more than 150 years. Roth is known for producing award-winning cheeses like Grand Cru® and Buttermilk Blue®, everyday favorites like Havarti and Gouda and innovative new snack and grab-and-go cheeses.
For more information about Roth Cheese, visit rothcheese.com, or find @rothcheese on Instagram and Facebook. For downloadable product assets, visit the Emmi Roth Media Center.