Smith has top tips for the perfect grilled cheese, a live cooking class and a recipe for your audience!
FITCHBURG, Wis. [April 4, 2023] – Roth® Cheese, an industry-leading cheesemaker, is celebrating National Grilled Cheese Month with its popular lineup of Gouda cheeses and a partnership to share grilled cheese tips and a special recipe from @GRILLEDCHEESESOCIAL's MacKenzie Smith.
Top 5 Tips and Tricks from @GRILLEDCHEESESOCIAL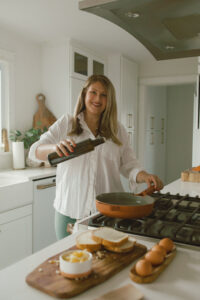 Use a great melting cheese like Roth® Gouda.
Blend—whether it's a simple recipe or a more complicated grilled cheese, choose other ingredients that compliment or blend with the Roth® Gouda—basically think about it like your favorite flavor pairing on a cheese board and lean into it!
Base—there's so much more than white bread! Get creative and use a base that makes the sandwich even more delicious! Inside-out bagels, English muffins, the world is your oyster!
Butter—Salty butter is my favorite way to grill a cheese but that doesn't mean I don't get creative with it! This fat is a perfect base to meld even more delicious flavors like rosemary, everything bagel seasoning, and even more cheese!
Grill—Choosing the correct pan and heat is a top priority when it comes to grilling grilled cheese! I always choose a medium-low heat and a really great pan like a nonstick or a cast iron skillet.
Chili Crispy & Honey Gouda Grilled Cheese Recipe from @GRILLEDCHEESESOCIAL
Makes 1 sandwich
10 minutes 
Ingredients
2 slices sourdough bread
2 pats salty butter
4 oz. Roth® Gouda, grated (a little over half a wedge), use the remaining cheese for snacking.
1 tsp. crispy chili oil
2 tsp. honey
Instructions
Place the shredded Roth® gouda on one slice of bread and drizzle with crispy chili oil (more or less depending on your spice level!). Place the other piece of bread on top.
Add half the butter to a fry pan over medium heat. Once melted, add the sandwich on top and more around to absorb the melted butter. Smear the remaining butter on the top part of the sandwich.
Cook the sandwich for a few minutes on each side, until the bread is crispy and golden brown and the cheese has completely melted.
Remove from heat and place on a cutting board. Carefully open the sandwich up and drizzle with honey. Close sandwich and slice in half before serving.
Consumers can visit "Where to Buy" to find Roth gouda.
###
About Roth® Cheese
Roth® Cheese is part of Emmi Roth, one of the nation's largest specialty cheese producers. Cheese experts at Roth have been crafting specialty cheese in Wisconsin since 1991. Roth is known for producing award-winning cheeses like Grand Cru® and Buttermilk Blue®, everyday favorites like Havarti and Gouda, and innovative new snack and grab-and-go cheeses. Visit rothcheese.com to learn more, or find Roth Cheese on Facebook and Instagram.
About MacKenzie Smith
MacKenzie Smith is the cheesy proprietor of the world's largest grilled cheese website—GrilledCheeseSocial.com, which is a food and travel blog dedicated to all that is delicious! She has been writing cheesy recipes for over 13 years and has even published a cheesy cookbook (with another one in the works!). Smith is also a regular in the Food Network world and has won two Cooking Network competition shows because of her love of lactose. As far as kitchen expertise goes, MacKenzie is the executive chef at her family's Boutique Hotel, Black Dolphin Inn, which is rated the #2 small hotel in the country by Trip Advisor.
Media Contact: Kaya Freiman, kaya.freiman@emmiroth.com