The Company's Do Good Report highlights their commitment to sustainability, community and the environment.
FITCHBURG, Wis. [March 31, 2023] – Emmi Roth, an industry-leading cheesemaker, has issued its 2022 corporate responsibility report. Covering the 2022 calendar year, the Do Good Report highlights the company's efforts in the following areas: reducing emissions and waste, reducing water use, developing employees and supporting our communities.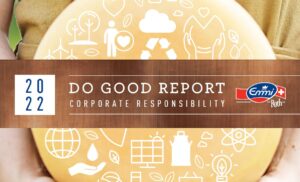 "The publication of our Do Good Report is part of Emmi Roth's commitment to sharing our sustainability goals and progress with our customers, stakeholders and consumers," said Emily King, Emmi Roth's Sustainability Manager. "The 2022 Report outlines how Emmi Roth is working to make sustainable dairy the norm—with our goals of achieving netZero emissions by 2050, reducing our water use and implementing recyclable packaging by 2027."
In 2022, the company's corporate responsibility efforts included:
Breaking ground on a new 158,000-square-foot facility that will become Emmi Roth's new headquarters. It will feature native landscaping and energy efficient building features. The new facility also will help reduce transportation lanes and reduce carbon emissions from transportation.
Developing goals to cut waste by 50 percent and to have recyclable packaging in place by 2027.
Decreasing water consumption per pound of cheese by 57 percent as of 2022.
Partnering with national and local organizations to help advance sustainable dairy.
Contributing to and volunteering for organizations in the communities where Emmi Roth employees live and work.
Read the full report.
Emmi Roth is an industry leader in providing the nation's top specialty cheeses. From making some of the most awarded cheeses in the U.S. to importing Switzerland's most beloved cheeses, we work every day to create the world's best. Emmi Roth has operations at five locations across Wisconsin and represents the top cheese brands in the U.S., including Athenos, Roth® Cheese, Emmi USA, and more. Visit emmiroth.com to learn more, or find Emmi Roth on Facebook and LinkedIn.
###
Media Contact: Kaya Freiman, kaya.freiman@emmiroth.com