New Flavor Ups™ are a convenient new way to enjoy blue cheese on the go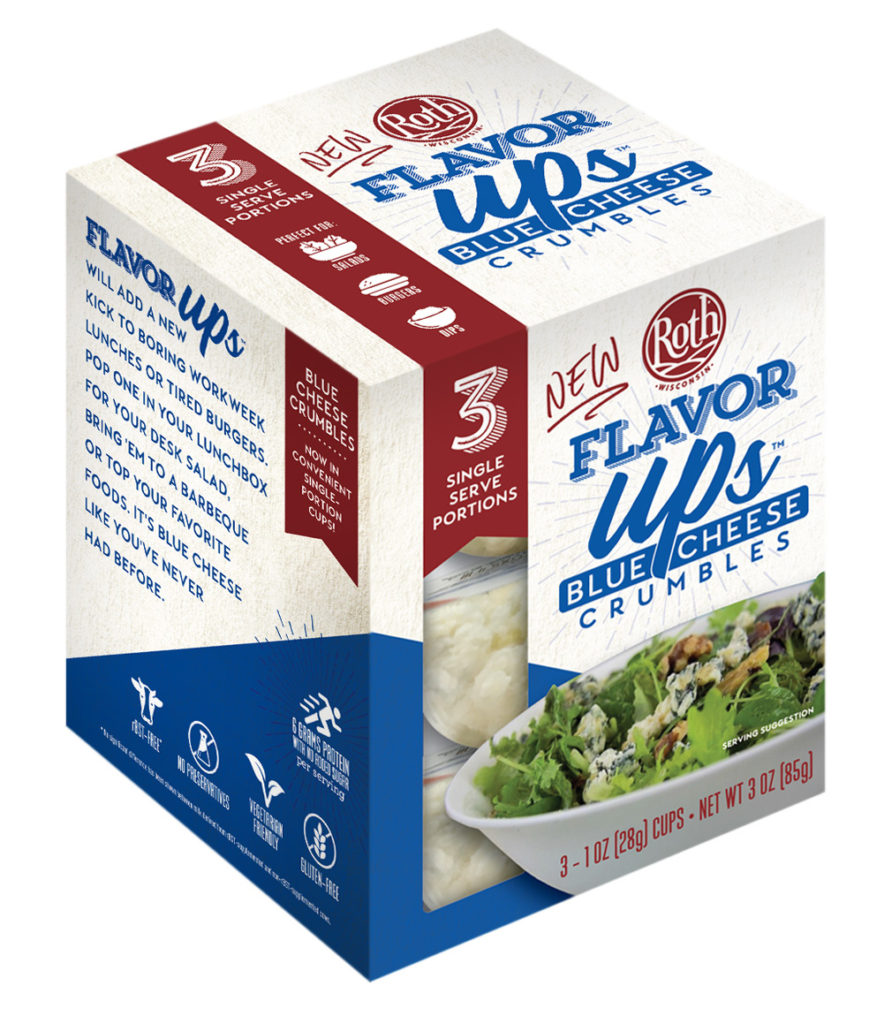 FITCHBURG, Wisconsin – Roth® Cheese, makers of award-winning specialty cheese, has introduced new Flavor Ups™ Blue Cheese Crumbles for retail and foodservice. Available in 1-oz. single serve cups, 3-packs or 9-packs, Flavor Ups were made to fulfill a void in the blue cheese category, offering convenient single-serve packaging for meal prep and recipe creation.
Flavor Ups are perfect for meal kits, salad bars, convenience stores and other grab-and-go areas.
"We believe in the blue cheese category and see individual blue cheese crumbles as new way for consumers to enjoy blue cheese," said Heather Engwall, Vice President of Marketing for Emmi Roth. "Our Flavor Ups Blue Cheese Crumbles are designed to give today's busy consumer a convenient way to upgrade their meals whether they are dining at home, at their desk, or at grab-and-go lunch areas."
Roth Cheese also developed new, single-serve innovative packaging for Flavor Ups Blue Cheese Crumbles to reduce food waste.
"Aside from seeking out foods packaged for portability, consumers are also looking for ways to limit food waste," continued Engwall. "We know some consumers struggle to finish a full cup of blue cheese crumbles after it has been opened. Flavor Ups offer consumers a smaller serving that can be enjoyed in one sitting."
Roth Cheese Flavor Ups Blue Cheese Crumbles will be available this summer. For more information visit www.rothcheese.com.
Media Contact:
Abby Despins
608-293-1003
abby.despins@emmiroth.com
About Roth®
Roth® Cheese is a part of Emmi Roth, one of the nation's largest producers of specialty cheese. Cheese experts at Roth have been importing and crafting specialty cheese in Southern Wisconsin for more than 150 years. Roth is known for producing award-winning cheeses like Grand Cru® and Buttermilk Blue®, everyday favorites like Havarti and Gouda and innovative new snack and grab-and-go cheeses.
For more information about Roth Cheese, visit rothcheese.com, or find Roth Cheese on Instagram and Facebook. For downloadable product assets, visit the Emmi Roth Media Center.